The 888Live London Festival Main Event started on the 20th and 21st October with flights 1a and 1b of the £200,000 GTD. This much-anticipated tournament was bound to bring in the punters, and it did. 288 entries paid £880 each for the chance of a piece of the £200,000 pie.
All told, the £200K guarantee was categorically smashed with players vying for a prize pool of £228,096 with £50,000 up top.
Big Names, Big Bounties
2014 WSOP Main Event Champ, Martin Jacobson, made an appearance at the festival. Antonio Esfandiari, Michael "The Grinder" Mizrachi, Melanie Weisner and Oanh Bui made appearances on Day 1a of the 888Live London Festival Main Event. Unfortunately, all 4 busted but as this was a re-entry event, The Grinder, Melanie and Antonio all re-bought in on Days 1a and 1b.
Also on hand were Team888 ambassadors, Kara Scott, Natalie Hof, Sofia Lovgren, Chris Moorman and Dominik Nitsche. Each ambassador had an $888 bounty on their heads, so there was more than survival into Day 2 on the minds of their opponents.
Unfortunately, Dominik lost his bounty on Day 1a, and Chris gave his up on Day 1b, but both Kara and Natalie hung onto theirs into Day 2 of this 4-day event.
David Tuchman, TonkaaaaP & Kara Scott. Image by Fabfotos
We're Going Live on Day 1!
Both Days 1a and 1b were featured live on our Twitch and Facebook Live streams. With David Tuchman and Parker "tonkaaaap" Talbot commentating the mouth and poker action were non-stop.
Team888 ambassador, Kara Scott, spent much of the latter part of Day 1a on the featured table, where she managed to chip up, taking a 271,900 chip stack into Day 2.
Sofia Lovgren made it steadily upwards as she built her stack up to just shy of 150K on Day 1b.
Elsewhere in the room, the poker gods weren't being as generous to one of our other 888poker ambassadors, Dominik Nitsche. He busted on Day 1a but re-entered on Day 1b. After an up and down day, he made it to Day 2 - but only with just over 100K in chips.
Our newest ambassador to the 888poker pro stable, Natalie Hof, also spent a vast portion of Day 1b playing on the feature table. The action from the featured table was streamed live to the 888poker Twitch TV and via Facebook Live.
Famous sports commentator, David Tuchman and Twitch super grinder Parker "tonkaaaap" Talbot took to the mike to cover the event live. The action was fast, but the banter was even faster.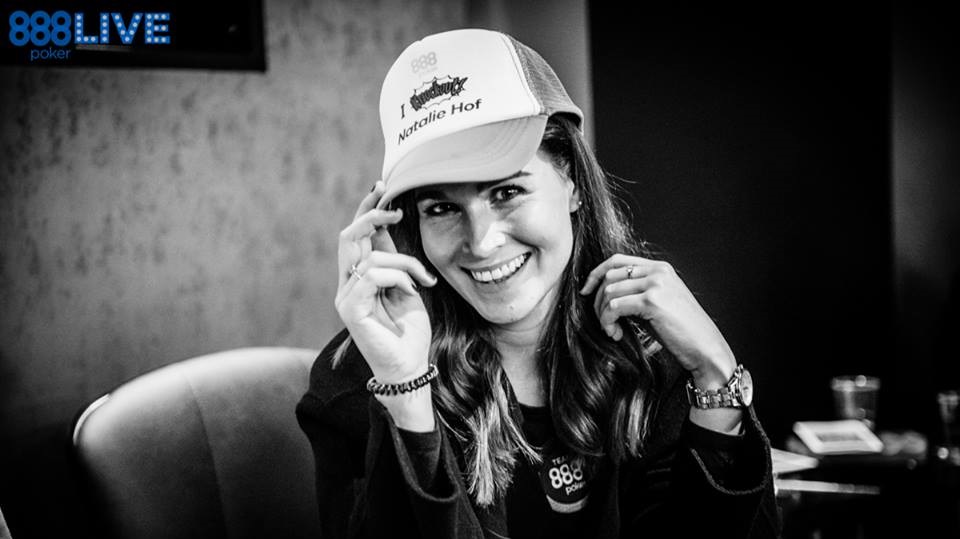 Natalie Hof. Image by Fabfotos
Making It to Day 2
Of the 288 runners on Days 1a and 1b, 79 made it to Day 2 on Saturday. Team888's Kara Scott, Natalie Hof, Sofia Lovgren and Dominik Nitsche were in the mix, as well as other famous names such as Michael Mizrachi.
Natalie went out first in 76th place, after losing a coin-flip hand. Later on, it was not to be for Sofia, who lost most of her stack when her Kings ran into Aces. She finished the tournament in 71st place. Dominik didn't fare much better. He went out just 5 spots later.
For The Grinder, who entered the day in 13th place, it proved to be very unlucky. He went out 25th after Sam Grafton took down his pocket 77s with AQ.
Kara Scott fared better. Although short-stacked she was determined to make it to the Final Day. After doubling up with pocket TTs versus 99s, she was all set to head into the final day with a chance of making the final table.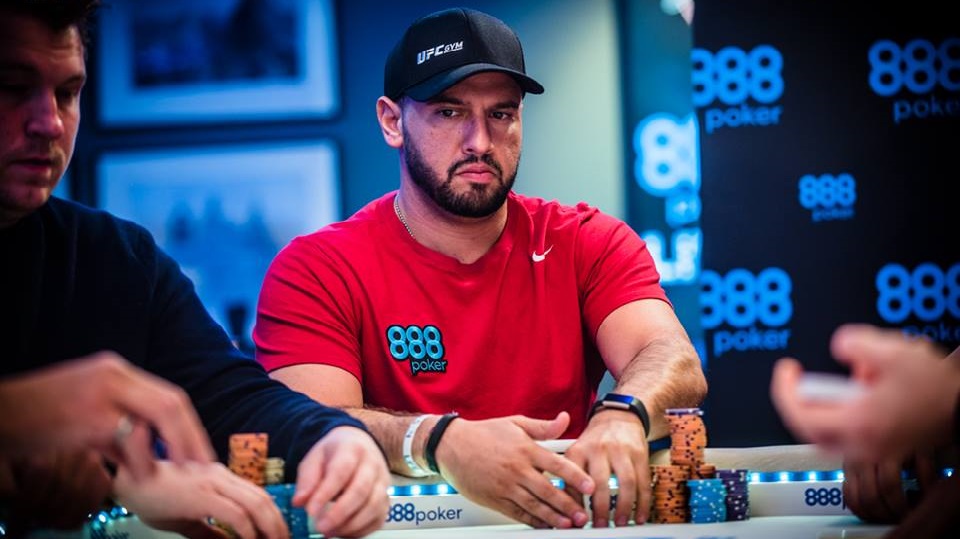 Michael Mizrachi. Image by Fabfotos
The Final Day
Only 14 players made it to Day 2 with each guaranteed a payout of at least £3,010. Kara was relatively short-stacked but made the most of her stack while surviving two all-ins.
However, it was not to be third time's a charm. She went out in 13th place, falling short to Philippe Souki when she rolled her pocket Tens into his Kings.
888Live London Festival Final Table Payout Schedule
1st - £50,000
2nd - £35,300
3rd - £22,740
4th - £16,830
5th - £12,640
6th - £10,100
7th - £8,410
8th - £6,720
9th - £5,037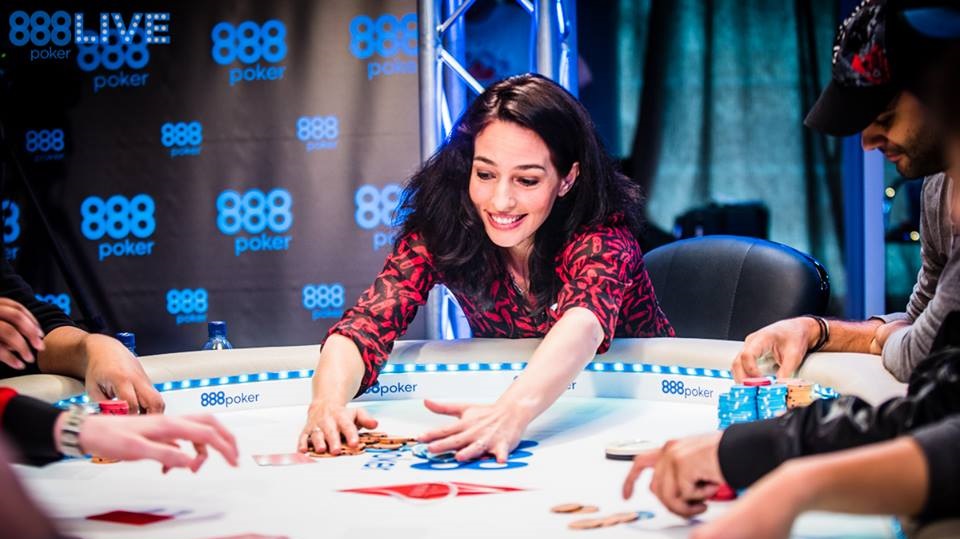 Image by Fabfotos
After Kara went out, 4 more players went in quick succession, and we had a final table of nine at the ready and set to go:
| | | | |
| --- | --- | --- | --- |
| Seat/Player | | | Chip Count |
| 1. | Cristian Mihu | | 1,611,000 |
| 2. | Shah Raza | | 1,226,000 |
| 3. | Jose Lopez | | 974,000 |
| 4. | Sam Grafton | | 725,000 |
| 5. | Mikhail Pokrepa | | 729,000 |
| 6. | Charles Chattha | | 573,000 |
| 7. | Ka Him Li | | 477,000 |
| 8. | Philippe Souki | | 1,817,000 |
| 9. | Enzo Del Piero | | 539,000 |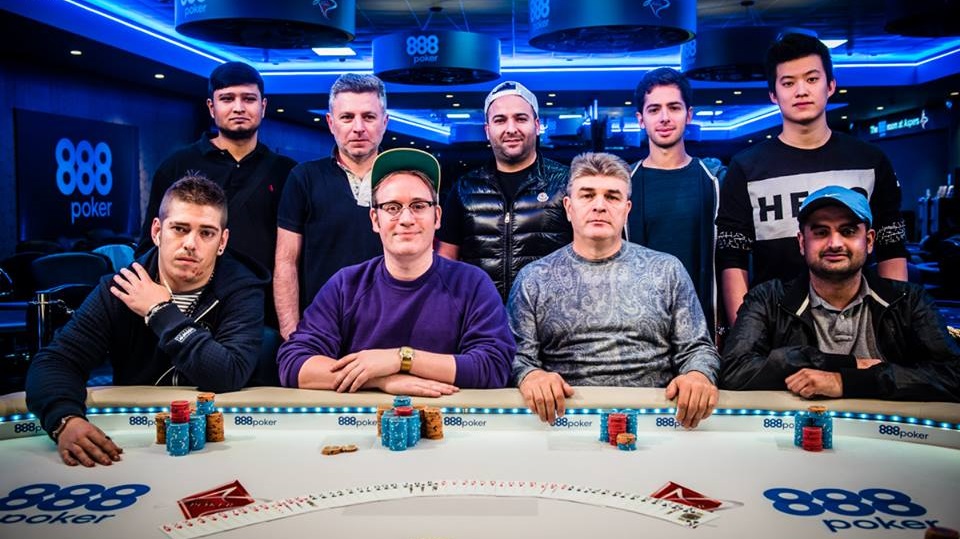 Image by Fabfotos
The Making of the Final Table
The final table was made up of some local players as well as a few from further afield. Shah Raza proved a crowd favourite and Sam Grafton stood out with arguably the best track tournament record on the table.
However, it was Enzo Del Piero, who went out first as the final table shortstack for £5,040. Right before the dinner break, Jose Lopez was eliminated in 8th for £6,720 and Mikhail Pokrepa went out in 7th place for £8,410. We were now down to 6.
Less than 30 minutes in after the break, Charles Chattha fell short when his Ad3d got crushed by Sam Grafton's Js8s. It was another feather in the cap for Sam as he knocked out Cristian Mihuin in 5th place for £12,640.
Grafton soared to the top of the leaderboard. But it was not to be. After a few missteps, the tournament leader found himself on the rail. He called Shah Raza's all-in shove – it was blind versus blind and Raza's As2c held against Grafton's KQ of spades.
Grafton was down to 1.6m and in 4th place. The very next hand Sam went all-in from the small blind with KsJd against Ka Him Li's AcJh in the big blind. He got no help from the cards and was out in 4th place for £16,830.
Minutes later, Philippe Souki went out in 3rd when he moved all-in with pocket 77s. Unfortunately for him, Ka Him Li had pocket 88s, which held. He walked away with £22,740.
We're Headed to Heads Up Play
Ka Him Li had a 3 to 1 chip lead going into heads-up play. Li had momentum on his side after knocking out two players, but Shah Raza remained resolved:
"One double up and I'm back," he told Li.
And, he meant it! After an all-in double-up, stacks were 5.415m to Li and 3.255m to Raza.
Raza moved all-in with pocket 88s and was called by Ka Him Li's Ac2h.
The flop had Li almost drawing dead: 8h-7d-7h
Turn: Kc
River: 5d
A deal was quickly agreed.
Shah Raza locked up £40K; Ka Him Li would receive £45K and they decided to play for the trophy.
Twenty minutes later, it was all over. Raza walked away with £40K and Li took the extra £300 and the trophy for £45,300.
It's been a fun ride with plenty more live poker on the cards.
See you at the next 888Live event!